Have you ever been bothered by non removable stains on your table? Have you felt depressed because there is a scratch on your newly bought perfect table?

Our tablecloths will help you solve these problems, the leather pattern itself has its own unique flavor, it symbolizes luxury but without the ostentatiousness of gold.

Our tablecloths are precisely designed with the leather pattern, its natural texture and unique flavor, acting as a carrier of culture and enchanting people.
Main Features
Anti-scratch & Anti-rub
The tablecloth is made of high quality PVC material throughout, which effectively prevents knives, forks and key lights from scratching, easily protects the table and is wear-resistant and scratch-resistant.
Anti-slip
Anti-slip bottom, the bottom of the table mat used for the PVC texture rubber bottom, increased friction, after laying will not move, can effectively prevent the dining table mat slide off the table.
Waterproof & Oil-proof
The characteristic of leather is waterproof and oil-proof, and our product is made of leather, perfect for waterproof and oil-proof, refuse stubborn stains, a wipe can return you a clean desktop. And it's also leak-proof.
Soft & Supple
Stable characteristics, long-term soft but not hard, no deformation, good fit, no warping, no breakage. Tablecloth thicker more durable, can effectively block the penetration of oil and dirt, but also heat insulation, can protect your table.
Specifications
Material: PVC
Color: Green, black, blue, white, gray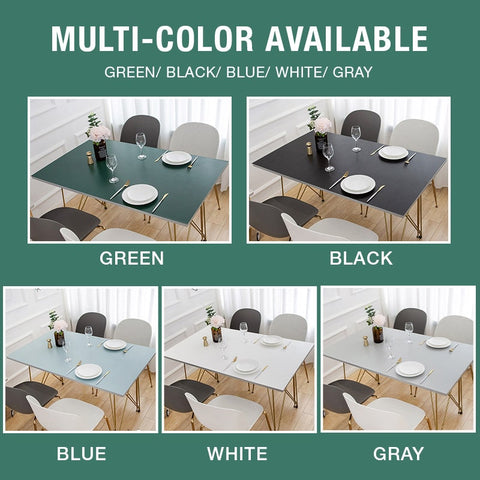 Package contents: Simple Style Leather Table Mat*1